Start Time :2014-10-24
End Time :2014-10-26
Country: Indonesia – [local hotels]
Venue: Jakarta International Exhibition Center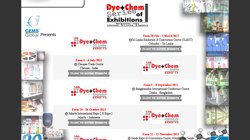 Exhibition Overview
Seventeenth 2014 Indonesia International Chemical Exhibition visitors printing will focus on: Indonesia dyeing industry senior management personnel management and production operation, on behalf of the processing, purchasing decision makers, as well as relevant industry professional consultants and experts, agents , importers and exporters, manufacturers, and government officials, associations, import and export Authority.
Exhibits
Textile industry:
(A) dyes and pigments, disperse dyes, vat dyes, direct dyes, acid dyes, reactive dyes, basic dyes, sulfur dyes, indigo, black sulfide, printing paste, color dyes, etc.; (b) the various dyes; (c) textile dyeing and finishing auxiliaries: dye dispersion / water / treatment preparation / processing / handling and processing aids, pigments and inorganic minerals something organic impregnation agents, surfactants impregnated print processing / printing behind , printing auxiliaries, environmental and functional aids; (d) other auxiliary functions: fiber monomer, activator, chemical fiber oil auxiliary, softener, finishing auxiliaries and other chemicals; (five) in the textile industry environmental technology, quality certification systems and related equipment.