China's textile industry is facing unprecedented difficulties this year, domestic cotton price difference is still larger and downs, Europe and other developed markets, lower than expected growth in developing markets fell significantly, the comparative advantage of China's textile and garment industry is gradually disappearing. To scraping orders in the fierce competition, many textile and garment enterprises to shift manufacturing base to lower the cost of production in Southeast Asia. Industry have pointed out that Chinese textile manufacturing overseas transfer into the general trend, but also the transfer of businesses are spread from clothing to industrial chain upstream yarn, dyeing and other fields.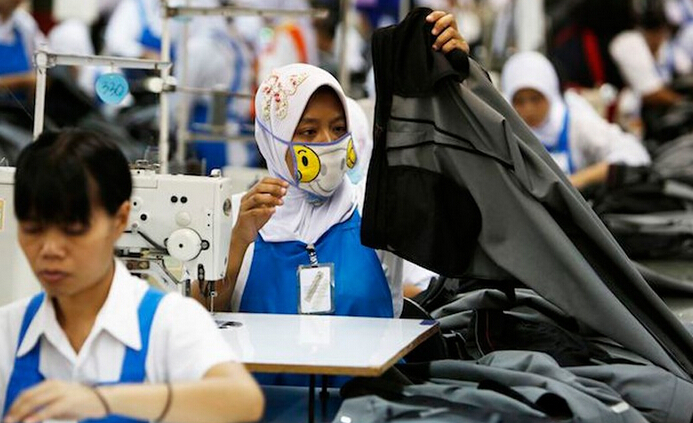 Edgy went to seek investment opportunities in Southeast Asia
There are a growing number of textile and garment enterprises in Southeast Asia added to the ranks of the investment. A person in charge of textile enterprises in Fujian briefed reporters, and a few years ago to invest in Southeast Asia but also in different stages of wait and see, many companies are now beginning the actual action. This year Chinese New Year began, the firm went to Dhaka to attend the Bangladesh Garment Textile Fair, after the country's textile and garment industry conducted in-depth investigation. During the Bangladesh study, which companies found that many companies from China but also with the same purpose in the Bangladesh study.
There are a lot of information, and now some of the textile industry base of enterprise BaoTuan to examine investment opportunities for South-East Asia. After more than a dozen such Quanzhou textile and garment export enterprises, went to Bangladesh at the beginning of the country's textile and garment industry has been 12 days of the investigation soon, and together participate in investment study tour of Cambodia's textile and garment industry. According to Cambodia's textile and garment industry to participate in the investment business trip inspection reports, when they visit the province in Cambodia pounds in Special Economic Zone, Guangdong denim apparel industry organizations met up to go to Cambodia to visit to discuss business. Southeast Asia has become a hot spot for Chinese textile enterprises overseas investment.
In recent years, the market appetite, export difficulties, rising costs, widening the difference between inside and outside the cotton, textile and garment export enterprises so that the majority feel the unprecedented crisis of survival and development pressures. This is the Chinese textile enterprises are keen to invest in Southeast Asia the main reason. Especially private small and medium textile and garment manufacturers, cotton spread abroad from 4000 to 5000 yuan per ton, only one needs to pay a higher cotton costs. Rigidity while labor costs rise year after year, as the traditional labor-intensive textile and garment industries, business spending yearly labor costs by 15% increments, and often face shortage of workers.
Meanwhile, the effect of some of the early success go out of textile and garment enterprises, but also allow more textile and garment enterprises have the urge to go out. Relevant data show that in recent years, going out to invest and set up factories in Southeast Asia more than 30 enterprises in Quanzhou, Fujian, Quanzhou driven by exports last year, ASEAN textile fabrics, textile machinery and equipment amounted to 451 million and $ 176 million, an increase of 33.1% and 21% respectively . The first investment in Southeast Asia businesses, inside and outside Jieyou profit to attract more business investment field visits to Southeast Asia.
Textile upstream investment projects increased
Upfront investment companies to Southeast Asia mainly garment enterprises. Some garment enterprises by investing in Southeast Asia where lower processing costs, better reduce the cost pressures.
Huizhou City, Bao Wei Garment Co., Ltd. Wang Yi Huang said that enterprises has processing plants in Vietnam, half of the manufacturing capacity has been transferred to Vietnam. Go to Vietnam after business productivity, reduce the cost a lot. Ningbo Seduno Group Co. in Cambodia and Myanmar has built factories in Southeast Asia because of the lower cost to build a larger-scale processing base, Seduno order to cope with falling prices in recent years the situation.
There are many large companies have begun to invest in Southeast Asia garment factory layout. December 2, 2013 evening, Shandong Zibo City, well-known textile enterprises Lu Thai Textile Co., Ltd. issued foreign investment announcement, saying that plans to invest $ 8 million to set up a wholly owned subsidiary Lutai (Cambodia) Co., Ltd. in Cambodia, mainly engaged shirt processing and marketing, production scale processing shirt 3000000. March 26, 2014 announcement that intends to Lutai (Cambodia) Co., an additional investment of $ 12 million, with a total investment of $ 20 million.
In addition to clothing, and now some yarn and dyeing enterprises have begun to shift their production bases to Southeast Asia. Huafu color spinning Co., Ltd. is a global industry leaders. Its release in December 2013 the company announced that plans to invest $ 136 million to set up color yarn manufacturer in Vietnam. March 2014, at Huafu 2013 annual results briefing, the company chairman, said Sun Wei Ting, Huafu this year's project is mainly located in Vietnam. Huafu recently released annual report of the first half, the Vietnamese project in the fourth quarter production. Blum Orient Co., Ltd. in November 2012 invested nearly $ 100 million to set up factories in Vietnam, and in January this year, an additional investment of $ 150 million. It is understood that Blum East Ltd is mainly engaged in spinning color development, production and sales of business products including cotton dyed yarn, blended yarn color, etc., is a leading manufacturer of color yarn.
Costs forced a substantial investment in Vietnam Huafu Blum and factories, the problem which is currently facing China's textile enterprises generally. With the launch of next year farmers subsidy policy, domestic cotton prices narrowed until convergence, a major driving force of textile enterprises to expand overseas may be weakened, but the cost of domestic labor, environmental, and land will continue to grow, textile companies to shift production bases abroad the trend will not change.