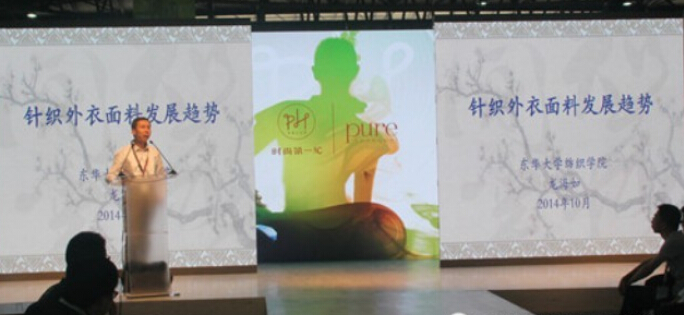 Knitted fabrics because of its soft feel, good drape and fit body, making it comfortable while in the pursuit to maximize the body's curves show, knitted underwear wearing a knitted garment coat taken the first step. In recent years, with new materials, especially multi-component fibers and yarns used, the international market demand for knitwear and fabrics is increasing, and promote the development of knitted outerwear fabrics, a variety of products and styles, have been partially replaced the machine woven fabrics, knitted fabrics become one of the development and clothing.
One-sided transform organizations Fabrics
Such fabrics are multi-sided needle tract (2 + 4,2 + 2) circular knitting machine, use fabric structure design and material combinations developed outerwear fabrics, both compact structure, dimensionally stable woven style, but also there drape, elasticity, good knitting bout conformal point, suitable for the production of casual wear, suits, jackets and other wear, here are some popular fabric products.
1.1 four Luluomabu
Using four colors of polyester, with a blending appearance; with fluffy polyester DTY elasticity is good, but extends small shiny polyester FDY better with viscose staple fibers and yarns interwoven with the added spandex yarn to make fabric structure more closely thick, has good flexibility.
1.2 six Luluomabu
Six Luluomabu surface smooth, thick, laterally extending lesser degree, while four Luluomabu good elasticity. Six Luluomabu currently no four Luluomabu widely used.
1.3 Imitation worsted fabrics
Polyester FDY and POY yarn composed of different shrinkage mixed fiber fabric dyeing and finishing process in action due to hot and humid, high shrinkage POY yarn tends core, low shrinkage FDY filament tow spiral curl on the surface of the fabric fluffy plump, with better wool-like effect. Plus vortex spinning line has smooth surface, anti-pilling good ball performance characteristics, worsted wool fabric woven fabric presents style.
1.4 twill
Organizations need 12 channels. 4-sided woven yarn with A (70D Kam DTY + 55D polyester diamond wire + 40D spandex covered yarn), only the remaining eight under knitting yarn using B (40s vortex viscose yarn), B ring and the yarn Contact relatively slack so the needle is not projecting the results presented in front of a concave twill fabric yarn loops B and A convex twill yarn circle.
2 coarse gauge Fabrics
Such fabrics are generally woven on machine No. E3.5 ~ E10 knitting machine, and single-sided fabric majority. In addition to the raw materials used coarser yarns, but also to roving and yarn intertwined, and added fancy yarns, but also presents a multi-component. Fabric looks like a cross woven fabrics, suitable for making women's, fashion, casual wear and other products.
2.1 color fabric liner
Use of coarse and fine two color pad yarn, fabric positive and negative showing uneven color horizontal stripes send effects.
2.2 double jacquard fabric nap
Raw material is 100% polyester DTY, weight 380g / m2. On the coarse gauge (E7) double-sided jacquard weave, reverse by raising treatment, rough woolen fabric with style and warm and good features, suitable for the production of jackets, coats and so on.
2.3-sided fabric color ring beam
Material: polyester / acrylic / wool (77/18/5), weight: 360g / m2. Features: The needle stitch anomalies based on the reverse side of the fabric from yarn to form a flower-shaped ring and cut the yarn bundle distribution ring color patterns.
2.4 less-bar tricot fabric colors
Material: acrylic / polyester / wool (77/10/13), weight: 215g / m2, features: coarse gauge style, in the back of the fabric is formed by multi-colored flowers Sesha long extension cord with a circle-shaped patterns.
2.5 thick yarn jacquard fabrics
Raw acrylic / wool (87/13), weight 110g / m2, on one side of the machine No. E7 jacquard circular knitting machine, roving coil to form a more dense and convex patterns, and the formation of a more dilute spinning coil mesh.
3 embossing, printing, nap, complex series of fabrics
After these fabrics by physical and chemical finishing process and composite technology, the fabric of the original structure, based on a number of additional features to take effect and color, fabrics described below can be used to make ladies, pants, outdoor sports and leisure clothing.
3.1 embossed cloth mesh
100D polyester raw material for DTY, weight 160g / m2. On the basis of the original double-sided fabric mesh staggered distribution, forming irregular embossed stripes. Can be used to make women's, skirts and so on.
3.2 Printed knitted spacer fabric (sandwich)
Material: polyester / spandex (92/8), weight 345g / m2. Features: printed fabric basis, then transfer printing has an uneven color patterns formed by the rubber paper.
3.3 knitted denim fabric nap
Ingredients for 55% polyester, 39% viscose, 6% spandex and weighs 290g / m2. The fabric cowboy style presents a positive and negative by napping treatment to improve the thermal resistance, and has good elasticity and shape retention, suitable for making pants, casual clothing.
3.4 jacquard / buffing / polyurethane composite fabric
Jacquard fabric from the front, opposite the mill velvet fabrics, and caught in the middle of waterproof and breathable polyurethane film composite. Weight 290g / m2. Weatherproof and has good thermal properties and elastic recovery can be used to make coats, outdoor sports and leisure clothing.
3.5 weft / warp composite fabrics
From the front of the warp lace fabric (cotton 60 / nylon 35 / purl 5) and back flat weft knitted fabric (polyester 55 / nitrile 45 / cotton 5) composite, weight 320g / m2. While demonstrating the warp lace fabric convex three-dimensional pattern effect, and also played a weft knitted fabric with good flexibility and extensibility features.
4-sided seamless garment fabrics series
Currently seamless garment single seamless underwear at home and abroad to occupy the majority. The double-sided seamless garment has a relatively thick, can Eaves rib knit hem, double jacquard, Tim yarn and shift-sided ring structure seamless underwear are not available, it is more suitable for the production of outerwear, sportswear, casual clothes, etc. products are becoming semi-molded one of the development of knitted garments.
The following describes the fabric is double-sided development of seamless circular knitting machines.
4.1 empty cylinder jacquard fabrics
Positive and negative black and white twill are right, in addition to black and white twill fabric junction connecting the outer sides of the coils, the rest of the coil is not connected to the formation of positive and negative air cylinder. The fabric can be made on both sides wear a jacket.
4.2 bump jacquard fabrics
The front portion and the opposite projections jacquard is not connected, while the concave portion has a coil connected to the positive and negative; heat shrinkage using two different yarns, negative and positive yarn shrinkage, so that the front part of the clear jacquard projections.
4.3 welt jacquard fabrics
Distribution front welt fabric jacquard patterns are formed, its structure is more sloppy, the remaining portion of the coil structure more closely, in stark contrast to the two regions.
4.4 shifting circle jacquard fabrics
According jacquard stitch transfer needle selection pattern after knitting the double-sided original into a single region of the transferring region, whereby the fabric surface to form a single-sided recessed projecting convex pattern.
Conclusion
Changes in the market, the new knitting materials, knitting equipment and related technologies continue to introduce, develop knitwear fabrics and knitted garments in favor of the adjustment of product structure, promote domestic demand, expanding exports, and its prospects.