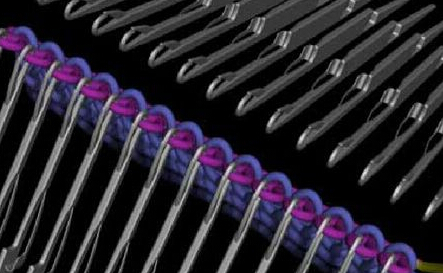 Defective needles are always perplexing every knitting corporations. Traditionally, defective needles can be only found by knitters through individual levels and attitudes. Currently, some dedicated devices have already appeared on market which can detect defective needles in the first time, mainly including two kinds of methods: direct method and indirect method.
Direct method
The equipments utilize optics to launch infrared ray or other optical signals. The equipments can receive echoed signals through hook reflection. When circular knitting machine operates per circle, the equipments record the quantity of signals, and compare the signals with correct quantity. When needles are broken, the signal cannot be reflected, resulting in quantity of signals reducing. Then the system confirms that the defective needles occur, stopping the machine in time in case of flaws.
Indirect method
Checkout equipments scan the surface of fabrics through high definition cameras, and compare the image with standard image. When the image does not conform to standard image, the equipments confirm that defective cloths are produced, then stopping the machine automatically.