September 2014, Première Vision fabric show foreshadowed the "courageous" and "casual" as the 2014-2015 winter fabric development of the most important concepts. These ideas of traditional fabrics, composite structure design fancy yarn and mixed to produce different insights and transformation in the structure, the use of decoration to create 3D stereoscopic and single main trend direction.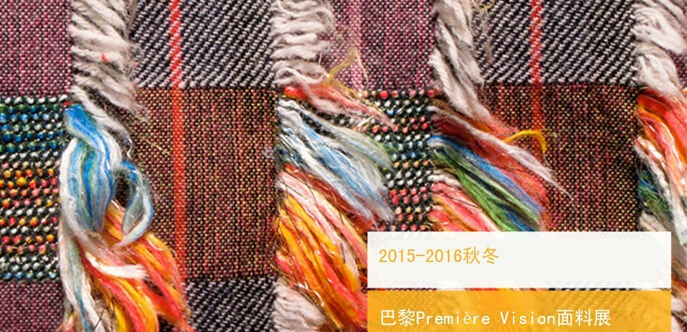 Manufacturers influential still emphasize the importance of the process of fancy yarns. Fibers demonstrates the unprecedented natural and synthetic fibers blended fabrics. Woven fabrics break with tradition, creating a classic fabrics, as well as allowing testing of the finished product in the future, to create surface eclectic, soft touch and comfortable pleated effect.
As for fancy yarns, innovative fashion materiality increasingly combining lightweight comfort and performance, regardless of the degree of the market. Unexpectedly, a soft new colors appear more inclined to complex color contrast, such as Première Vision fabric show in soft, pastel colors.
Trend Analysis:
Tactile sense of volume: sloppy seersucker weak air, surface embossing and quilting, as well as mezzanine and 3D three-dimensional structure dominated this season, adding to the visual impact and tactile fun.
Fashionable decoration: updated with enhanced fabric surface texture. Decorative jacquard woven fabrics to explore the use of tulle, hollow structure, fictional acupuncture and mixed colors create.
Casual blend: fibers, fabrics developed into a mixed characteristics. Increasing the delicacy of silk, silk cashmere coat using fancy yarns. Polyester lace is embedded wool or linen, wool and cotton to create a tactile contrast using negative effect.
A sense of relief volume
Three-dimensional volume is still the dominant theme of women's fancy yarns, as the pattern great touch. Pattern first appeared in seersucker, and now also explore the use of special jacquard woven and complex process, showing the floor or local effects. Genre painting, abstract natural organic surfaces and geometric patterns of women's jackets, dresses, jackets and coats to build from day to evening diverse selection loaded.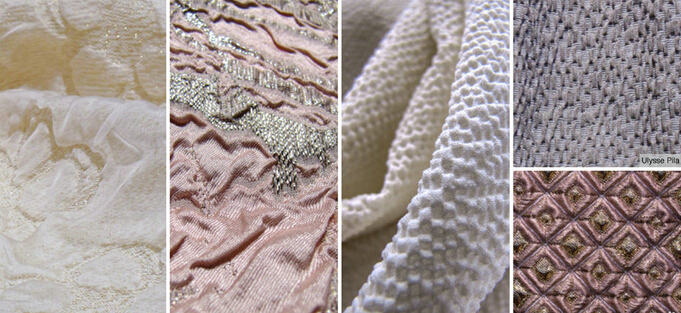 Sloppy thread
Designers are trying to make their yarn fabric innovations series more charismatic personality, which is still floating weft fancy yarn popular. Manufacturer to break the traditional rice bars Nominated tulle flowers restrictions, using this jacquard technology, to create a longer unprocessed crop like tassels, adding real and vibrant character. Striking the surface of a large number of lines to increase the weight of the yarn wool coat and scarf fabric, decorative tassels and smoother exquisite dresses and shirts transparent thin fabric.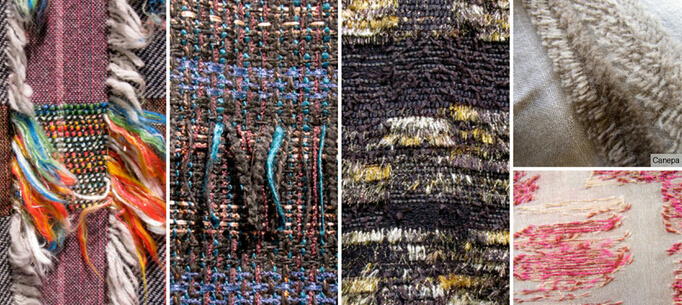 Vitality satin
Satin fabric is still the main season, and are coats, dresses and tops are popular fabrics. Medium weight satin smoother and heavier warp-sided woven fabrics prevalent. Soft shiny fabric than scattering shiny fabrics, and double-sided satin tightly integrated with contrasting color or fiber properties become essential fabric of the season. Satin silk used in high-end clothing line, and rayon, cotton and polyester blended fabrics will have a broader fashion market.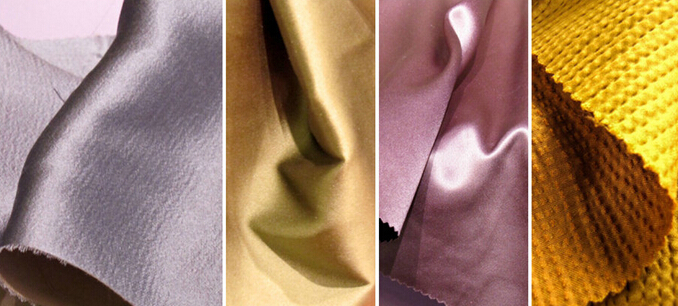 Art openwork fabric
Openwork fabric is still an important market of high-end fashion fabrics, embroidered by embossing style, three-dimensional design and cut velvet lace knitting and other craft show sculpture-like characteristics. Mesh design highlights grid, diamond and circular patterns, while faceted shape or surface corrugation structure emerging dynamic beauty.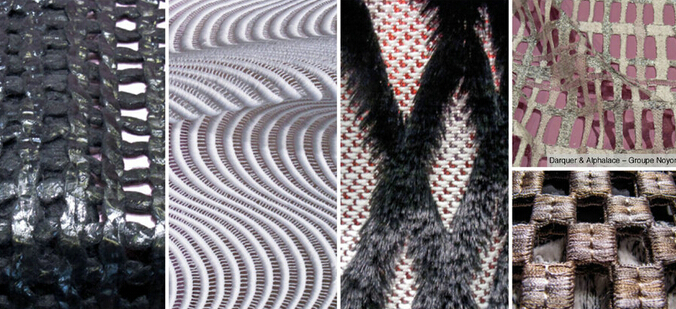 Decorative quilting
A novel method of quilting and wadding enriched fancy fabrics, blurring the casual and elegant dress code boundaries. Background from thin nylon fabric and wool to silk weaving plain different. Embossing and needling process can be adopted to achieve this style, embroidered fabrics and metallic luster yarn adds a decorative effect. Including the classic diamond quilting pattern, square and round, large and small, the size of the loop in order to render.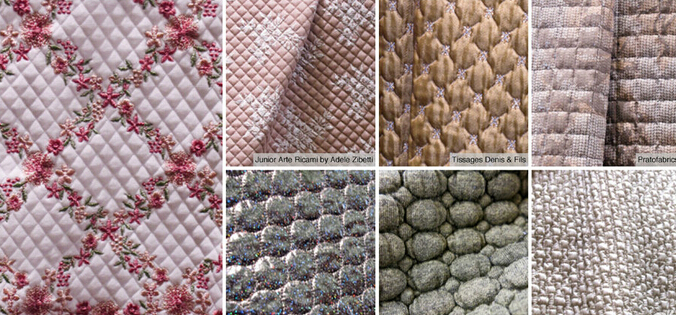 Enhanced Coating
Fancy yarn still be used in the coat areas, such as coats and jackets with this decorative coating. Thick brushed fabric large number of surface decoration to create a rich visual impact. Graphics acupuncture, additional contrast brushed yarn and fuzzy fabric-sided structure is common to add three-dimensional. Striking a large pattern, experimental craft and vibrant colors through the use of natural fiber yarns make the fabric becomes soft.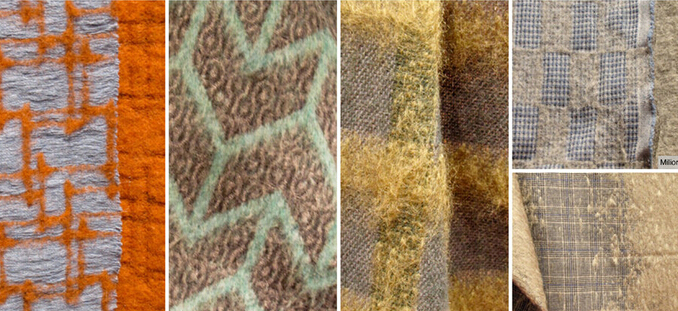 Soft lace
Lace is the fabric of women enduring mainstream elements, new methods of unconventional fibers discover novel design potential. As Solstiss lace linen use quieter surface to create a low-key luxury features, and more mainstream lace floating through the use of soft chenille yarn wire wool or even change the style, to create a hazy effect cascading embroidery.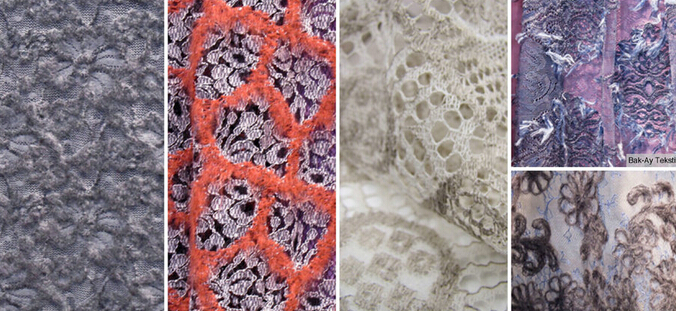 Tweed touch
Still a lot of multicolored tweed fabrics and intricate texture features and quirky touch and printing through enhanced textured yarn, colorful style of painting to create a mottled effect; fabric more irregular surface, the better. Bold use of terry fancy yarn, yarn, yarn and sequins grain knot dressed fancy yarn fabrics combine to create a novel, Chaos fuzzy fabric qualities. Traditional checkered tweed design becomes a novel, in particular through a variety of patterns, inlaid rings and stripes pattern.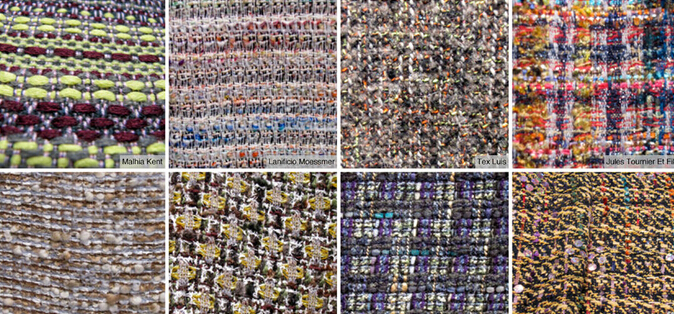 Decorative faux fur
Soft, thick, plush fabric makes a lot of pattern new look to technology updates and unnatural style charm. To enrich the end-use for the target profile shape, from coat to coat a single product development and design, woven and knitted fur with lots of different weight rendering. Explore the use of faceted shavings, transition effects and colorful dyed, embroidered and fabric bonding and stacking, making faux fur fabric choice is still important decadent costumes.