A sense of lightness and breathability occupies an important position in the absolute middle 16 spring and summer fabric design. Nano lightweight sheers weighs only 18 grams, the new generation of adhesive fabric plain fabric and spaces this past lighter, but also has a thermal regulation, high elasticity and odor characteristics. Mechanical mesh fabric specially designed to outline the body curve and enhance sense of compression, irregular texture and layering in a grid pattern brings new ideas. Denim finishes and flash feature is reinterpreted French flannel.
Nano lightweight sheers
A new generation of nano-lightweight sheers is still the main sportswear fabrics, and looks more wear resistant, and some fabric weighs only 18 Kedi Nima (Dyneema) blended fabrics are particularly strong. Superfine Neil fabric has papery feel only storing the minimum size foldable as and with good permeability and windproof.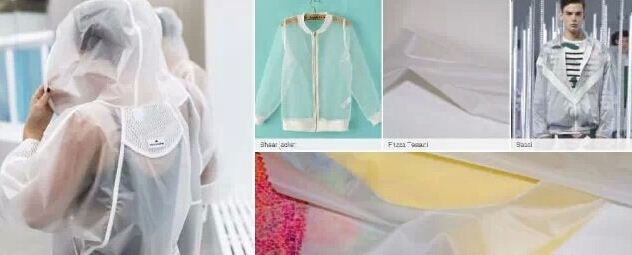 3D spacer fabric
Spacer fabrics used to create sportswear, accessories and footwear evolving, 3D stereo-quality, high-performance geometric patterns to create a textured effect. 16 spring and summer fabrics with lightweight features, and has good permeability, compared with the previous quarter saw the fabric is extremely flexible. Surface effect also has a sense of cotton, plain weave the yarn flower clip highlights the casual style.


Bonded fleece
Bonded pile fabric 16 is undoubtedly the perfect spring and summer season across the fabric, not only has the thermoregulatory properties, and its high elasticity characteristics make the slightest movement without restriction, also has a weather-proof and odor characteristics. Smooth surface effects processing best suited streamlined performance characteristics.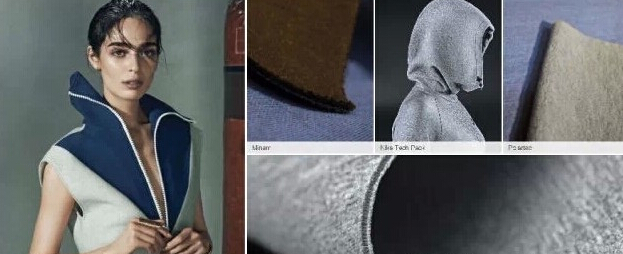 Sports mesh spacing
Lightweight mesh fabric is a 16-hole interval of the main spring and summer fabrics for extreme breathability and comfort. Lightweight fabric and natural, surface treatment effect is soft, light and suitable to create contours and breathable upper. Hit the color can be found in the lining, or highly innovative color effects, such as Performance Days Fabric Exhibition findings.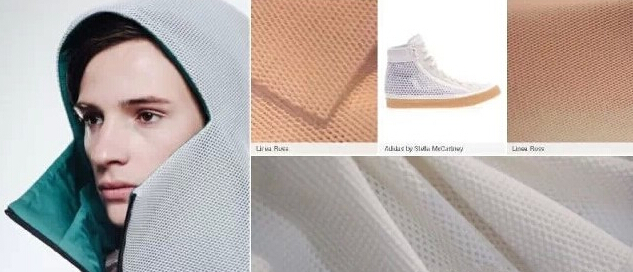 Film mesh
Mesh structure continues to evolve, breathability and performance enhancements. Middle polyester fabrics using 3D three-dimensional frame structure, plain weave cotton and knitted and bonded structure adopted to form an air-hsiang structure to enhance the cooling effect.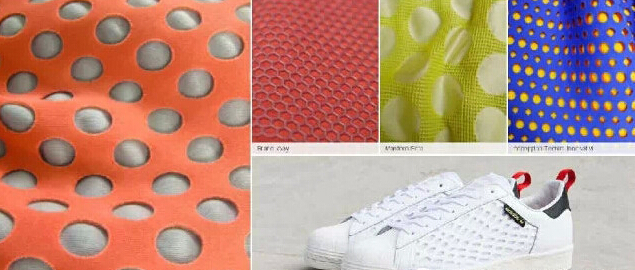 Mechanical mesh
Because of the mechanical mesh structure helps to restore bounce and bending movements in volatility and highlights the contours of state biological gradient compression case. By outlining the body lines, mesh structure can crunch at a specific point in the region and expand support to enhance the effect, thereby reducing muscle fatigue and swelling, faster recovery time to make fabric performance has been greatly improved.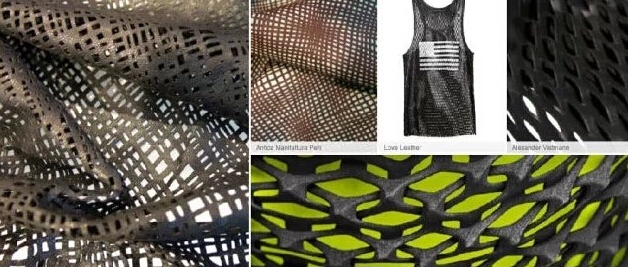 Lightweight quilted
As we in the spring and summer textile trends 16 Preview: Eco-awakening report, the lightweight quilted and Matt Russell relief (matelasse) structure is the shirt fabric and cotton shirt jacket flagship design. Best suited to create the surfing and outdoor clothing, lightweight warmth and heat regulation, may be concerned about the new season with a cowboy good air permeability and weatherproof features and clip flower yarn fabrics.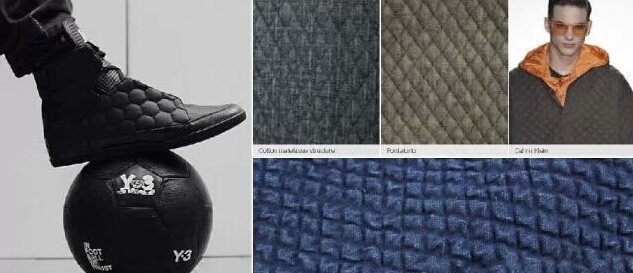 Irregular Plaid
The main square is still enduring design, 16 in spring and summer and flash spun fabrics woven checkered design more innovative, reflecting the irregular texture, color matching, mostly earth neutral color combination with the use of synthetic bright colors, is perfect for outdoor and surfing beach pants. Checkered design and ecological awareness, pink and deep luminous generation theme colors complement each other.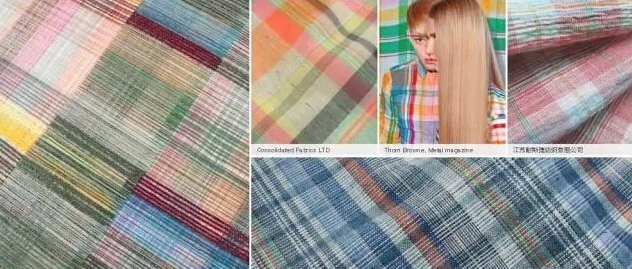 Dynamic clip flower yarn
Crisp hit color design brings new ideas for spring and summer 16 middle clip flower yarn fabrics, to create a vibrant fabrics series. The series looks fuzzy fabric, wool grain and filaments seemed to move quickly, highlighting the high-performance results. Summer Merino wool blended fabrics add a deodorant function and enhances breathability and warmth. Main design also includes a new anti-ultraviolet function.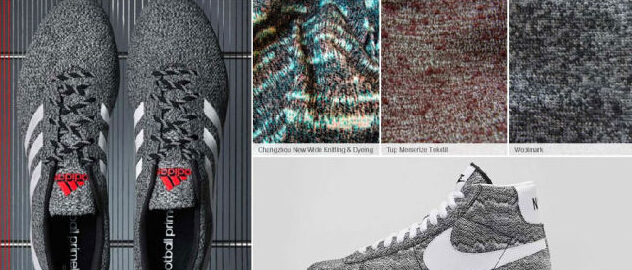 Overprint Plaid
Patterns and textures rich layering effect for Plaid adds three-dimensional. Exquisite floral overprint brought new ideas for fine cotton Madras cotton fabric and double-sided, you can refer to our 16 spring and summer textile trends Preview: deep sea luminous report and wear effects to create a kind of do the old look is casual facial and the perfect choice for ultra-soft feel.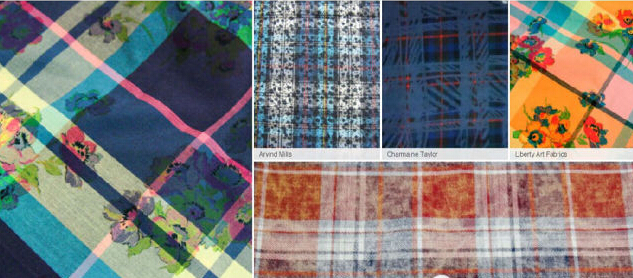 Movement seersucker
Outer smock effect from the previous quarter blisters evolved, with exaggerated effect seersucker and folds to make three-dimensional characteristics of the fabric showing. Relief embossing pattern or create a full end of the car line of high-performance lightweight woven fabrics, not only has the characteristics of soft, loose, and the unique structure of the air bag is more lightweight warmth.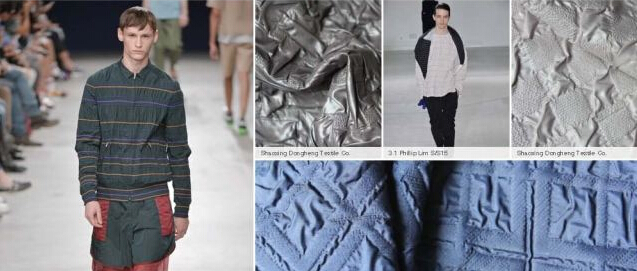 High-performance flash effect
16 spring and summer as we knit with plain fabric trends Preview: Deep Glow in the report, showing the starting Divergence flash polyester gloss and technical elastic effect, so that the performance ultralight technical plain fabric is enhanced. French subtle metallic luster for plain weave cloth and adhesive adds new, luxury sports profile shape and become the best choice for women's market.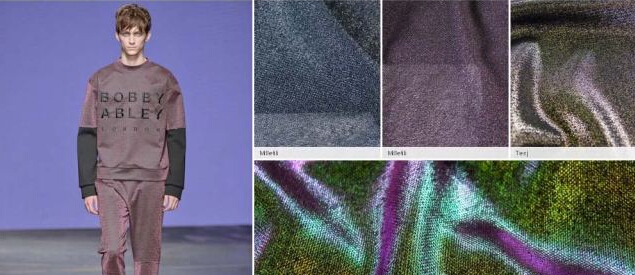 Cowboys clip flower yarn
Denim is a key fabric sportswear, denim-style French flannel middle of seasonal clothes to be used for cross-selling with the jacket. In modern practical trends and surf wear with denim fabric, can enhance the performance of the force. As we saw in the deep luminous fashion forecast, become more simple and refined silhouette, enhanced flexibility and breathability.